149% traffic increase + 50% leads increase for internal comms. firm.
The Challenge
The Grossman Group is an award-winning communications agency specializing in organizational consulting, leadership development and internal communication. They are headquartered in Chicago, IL and work with clients across the globe.
Before coming to me, The Grossman Group was already doing a lot of things "right" from an SEO perspective. Their search engine traffic had been increasing steadily over the past two years – largely due to their blog – and they were simply looking for ways to take things to the next level.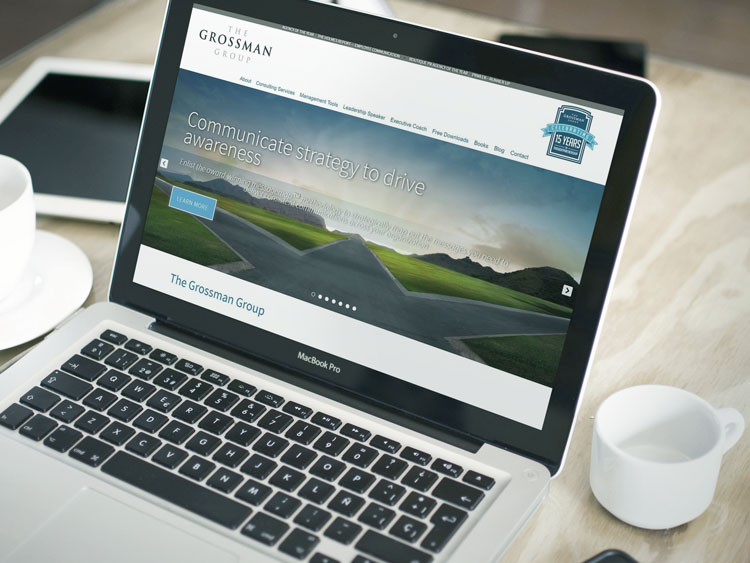 The Solutions
Keyword Research
The first thing I did was keyword research for their "commercial" site pages – basically, everything except the blog. The Grossman Group offers dozens of consulting services and proprietary tools for leaders and internal communications departments, so there was a lot of work to be done here.
Title Tag Optimization
After sharing my research we prioritized our most important terms and put them into carefully crafted title tags (the blue "headline" that appears for each page in a search result and one of the most important on-site factors search engines consider when ranking a page).
In order to get these pages ranking as quickly as possible, I also recommended a variety of on-site edits related to content relevancy and technical efficiency.
Because this was an established business with good search engine rankings, it was important to thoroughly audit their existing rankings to make sure we didn't "de-optimize" for important terms that were already driving traffic.
Blog Optimization
One of my favorite things to look at when evaluating a client's site is "easy wins" – i.e. little tweaks we can make to get quick results. An easy win I found for The Grossman Group involved identifying terms they were almost ranking for so we could implement some basic on-site strategies to push these pages onto page 1 of search results.
Two additional areas I assisted with included:
Researching keyword and topic ideas to create future content around based on key search metrics and insights.
Developing an improved strategy for updating and optimizing top-performing content on the blog.
Link & Citation Building
Of course, no SEO campaign would be complete without off-site promotion! For The Grossman Group, some of our best opportunities came from link reclamation (existing links to non-existent site pages), unlinked brand mentions (mentions of their brand without link attribution), blog roundups, and relevant niche, local and national web directories.
The Results
Over the course of 10 months total site traffic increased by 149%, blog post traffic increased by 151%, and organic search traffic increased by 71%.
Of the 103 primary keywords we targeted we improved positions for 72 of them, with 28 terms ranking on page 1 and 54 terms ranking in the top 3 pages of search results.
Comparing the first month of our campaign to the last, contact form submissions from organic search increased by 50%.
"
Zack came on board as our SEO partner at a time where things were going well, but we really wanted to take results to the next level. With his expertise and ability to really 'get to know' our business we were able to do just that. Traffic and ultimately, business, is up because of our partnership.
Kayla Ellsworth
/
Marketing Senior ThoughtPartner
/
The Grossman Group