Page 1 rankings generate new accounts for digital marketing firm.
The Challenge
Reilly Connect is an award-winning, Chicago-based digital communications and influencer marketing agency. With a heritage rooted in public relations, they are innovators in the sector bringing greater accountability to the discipline and results based on business impact not just impressions.
They sought to optimize their web presence through improved content and SEO. Their primary goals were to: 1. Increase targeted traffic to their website, and 2. Convert that traffic into business leads.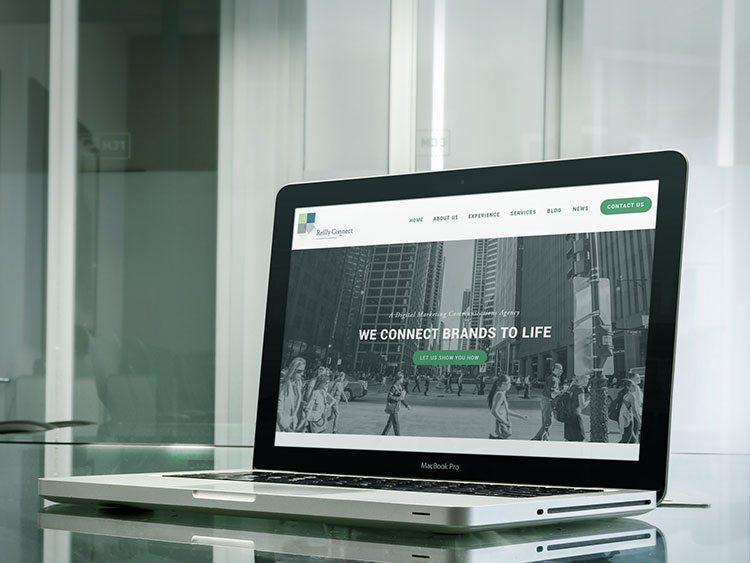 The Solutions
Keyword Research
Before I began researching specific search terms to target, we had several discussions about what the business looked like today and where they saw it heading in the future. Based on those conversations, as well as my own research on their industry and competitors, I went to work identifying the best topic and keyword opportunities for their business to rank for.
It was important to find terms that were: 1. Commercial-based (i.e. people seeking services, not just information), 2. Being searched for on a regular monthly basis, and 3. Realistic to rank for, given our starting point.
Content Development
Our initial conversations revealed that there were several big services they offered that were under represented on their website. If we wanted to rank for terms related to these services, we needed to have dedicated landing pages that promoted them. The client took the reins on writing the content, with my guidance, and we had the necessary pages up within weeks.
In addition to creating new pages, I determined that several of their existing pages were a little "thin" on content. I recommended they add more content to these pages and provided ideas and direction for how to do so.
Lastly, I recommended they add a simple call-to-action at the bottom of each service page and helped them craft the messaging. The goal was to encourage new business inquiries via phone call or contact form submission.
On-Site Optimization
Now that their website was completely up-to-date with their business, we needed to make sure it was fully optimized for the terms we intended to rank. This included:
Writing carefully crafted title tags and meta descriptions for each page (the blue "headline" and descriptive text that appears in search results).
Incorporating our specific keywords into other important areas of each page, such as headings, body text, and image alt text.
Installing Google Analytics and registering their domain in Google Search Console to help us track our progress and report on any technical issues that could prevent their site from ranking as well as it could.
Removing unnecessary and/or duplicative site pages from Google's index via 301 redirects, noindex meta tags, and canonical tags.
Link & Citation Building
Reilly Connect wanted to rank for some pretty competitive keywords and in one of the most competitive markets in the country (Chicago), so I knew that getting links and citations from reputable, authoritative sites would be essential to our success.
Some of the best opportunities came from associations / organizations they were a part of, guest posts and interviews (from and with Reilly Connect's President), and links and citations from local, niche and national directory sites.
The Results
Over the course of a year, traffic from organic search increased by 281%.
Of the 26 primary terms we tracked, we went from not ranking anywhere to ranking in the top 10 pages of search results for 24 of our terms and in the top 5 pages for 23 of our terms. More importantly, we put 8 terms on page 1!
As a result of our ranking and traffic improvements, Reilly Connect expanded services to several existing clients and attracted several new clients as well as increased prospective client opportunities.
"
Zack's counsel helped us successfully increase web traffic that converted to substantial incremental business. He brought our team simple and highly-effective solutions.
Susan Reilly
/
President and Founder
/
Reilly Connect