6 months of SEO Consulting turns website into a lead generation machine!
The Challenge
Brisan is a team of smart, passionate and technical food and beverage ingredient experts. Over the past twenty years they have evolved from a traditional ingredient brokerage to a vertically-integrated resource hub with expertise in food marketing, sourcing, development, and commercialization.
Prior to reaching out to me, very little time or money had been spent on marketing and their website was significantly under-developed. Fortunately, they understood the value of SEO and were willing to work hard with me to get things moving.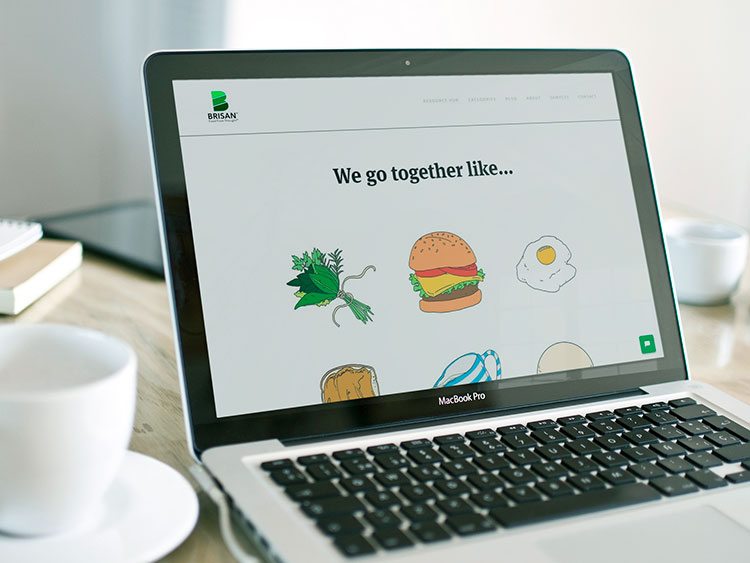 The Solutions
Keyword Research
A lot of research was done upfront to understand their industry and their business, as they are "one-of-a-kind" in many ways. We got crystal clear on what they offer, who they want to reach, and how that audience uses the internet to find the products and services they offer.
From there, we selected the best words and phrases to target based on search volume, intent, and competition (meaning, how difficult it would be to rank on page 1).
Content Development
We quickly realized that their website only covered a fraction of their service offerings—so, we fleshed out a sitemap of pages that needed to be developed and got to work creating content for them. We also spent a lot of time discussing how to organize the content on their website in a way that would be intuitive for site visitors.
On-Site Optimization
Before publishing the new content on the new pages, we made sure it was optimized for the primary keywords we wanted each page to rank for. This included writing unique, descriptive and compelling Title Tags and incorporating our keywords into other important areas of each page.
Additionally, we added a strong call-to-action at the bottom of each service page to encourage people to contact Brisan for further information about their ingredients and services.
Blog Consulting & Training
Brisan is an extremely experienced team on the cutting-edge of the food and beverage industry. We agreed that their blog was a great place to showcase their expertise to further establish them as a leader in their space, drive additional traffic to the website, and generate more business leads and opportunities.
Because this was just a 6 month campaign, my main focus here was to train their internal marketing team on how to best leverage their blog and build upon the success we had during our campaign once it ended.
This involved 4 separate in-person training sessions covering:
How to identify topics and keywords to write about that have the potential to pull in meaningful traffic to their website.
How to optimize blog posts to ensure they are relevant to their intended term(s) and valuable to their intended audience(s).
How to promote blog content for links, brand mentions, and traffic.
How to measure progress and uncover additional opportunities using Google Analytics and other free tools.
Link Outreach & Promotion
With a significantly improved website to leverage, we then needed to build the authority of their domain with links from other reputable, relevant websites. This primarily involved reaching out to partner companies, writing guest posts, submitting their business information to directories (niche, local and national), and promoting their blog.
The Results
Organic site traffic (i.e. traffic from natural or "unpaid" search results) grew by a whopping 481% in just 6 months.
Of the 51 primary keywords we targeted, we improved positions for all of them – with 29 terms ranking on page 1 and all but 3 terms ranking in the top 3 pages of search results.
Prior to our campaign, Brisan had never received a legitimate business lead through their website. They now receive several each week.
Additionally:
Brisan now has a website to be proud of – one that is well-organized, attractive, and accurately (and more holistically) represents their business. Of course, it's also extremely well optimized for search!
Their internal marketing team learned a ton about SEO and has a roadmap they can use to build upon our results moving forward.
"
I have had an outstanding experience working with Zack. He is a nimble, experienced, professional, enthusiastic team-player - and I'd argue the best SEO consultant in Chicago (so glad we found him!).
Theresa Cantafio
/
Marketing & Business Development
/
Brisan