Launching a New Website? Here Are My Top 5 SEO Tips
The very fact that you're reading this article means that you're thinking about SEO at an early stage of your web development process, recent website launch, or perhaps even the launch of a brand new business.
Whichever the case, that's great!
Launching a new website represents lots of opportunity from an SEO perspective, as it allows you to lay a great foundation for rankings, targeted web traffic, and an overall great user experience from the get-go.
While there are a lot of different types of businesses and websites out there – each with their own set of opportunities and challenges – I believe the tips below will be both applicable (and highly effective) for the large majority of them.
Without further ado, here are my Top 5 SEO tips for a new website.
Tip #1: Map out important site pages
The pages you create for your website and their navigational relationship to one another is an important consideration for any website and has significant implications on both user experience, as well as search engine rankings.
Of course, the more thought and research you put into your website structure from the start, the less back peddling you'll need to do later on and the faster you'll start making progress in search results.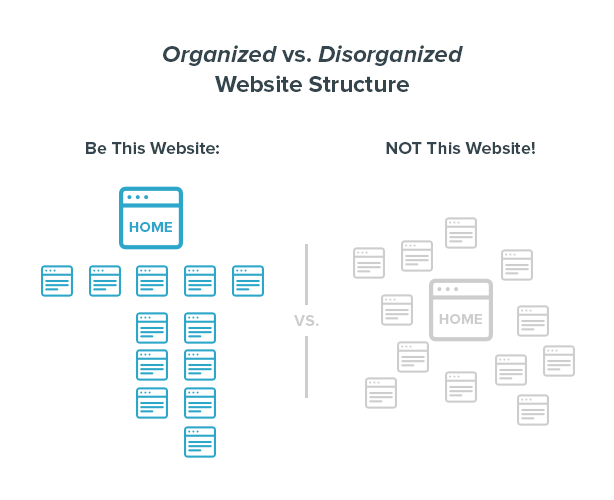 Product/Service Pages
One of the most important tasks here is to think through your products and services. A common mistake I see with new websites (and even established ones) is to have just one product/service page that lists everything the business offers.
Why is this bad?
Well, it will significantly hinder your ability to rank and drive traffic for each individual product/service you offer, it doesn't give site visitors the most relevant/targeted experience, and it will likely have a negative impact on conversions.
Let's use a Catering company as an example, and let's say that company offers catering services for 4 main event types:
Wedding
Corporate
Fundraiser
Social
I bet there are a ton of catering websites that have just one Services or "Events" page that lists each of these 4 event types, with a short paragraph about each one.
That's a good start, but the next step would be to have a "Learn More" button or hyperlink after each one that links to a targeted landing page with more details about each event type.
So their navigation might look like this:
Now they are much more likely to rank for each individual event type they cater – and, once a searcher lands on that specific page they are immediately presented with the information they need about the business's offerings around that event type.
Additional Page Structure Tips
Pages should reside in directories, not sub-domains – e.g. yourdomain.com/page not page.yourdomain.com (there are only a few exceptions to this).
Page URLs should be concise and keyword-rich – e.g. yourdomain.com/event-venue (whereas something like /facilities would be broad and not the language people would use to find the page).
Page URLs should use hyphens (-) between words, not underscores.
Pages should be organized into categories and sub-categories, where appropriate. This is especially important for product and service pages. Here's an example of what a logical structure might look like: yourdomain.com/services/wedding-catering
Page URLs should be no more than 3 directories deep – e.g. 1. /services 2. /wedding-catering 3. /outdoor
Blog URLs should look like this: yourdomain.com/blog/post-title (the only websites that should consider using the date in their URLs are news sites)
If you're using a content management system that makes it difficult (or impossible) to set up your page structure with the above best practices, I highly suggest switching to a different platform (like WordPress). Trust me, it will only get harder to make this switch as time goes on!
Read: How to Organize a Website for additional tips on page structure and organization.
Tip #2: Create compelling, informative content
I'm not going to turn this into a copywriting class, but I'd like to highlight a couple key points as it relates to the content on these pages.
Put Yourself in the Searcher's Shoes
Imagine that you're the person (i.e. the prospective customer) sitting down in front of a computer, going to Google.com, and typing in a search query – for example, "wedding catering chicago". You click on the first result and get taken to a page on a company's website talking about their wedding catering services.
What information would you expect to see on that page?
If there was 1 paragraph of generic text followed by a "Request a Quote" button, would you be likely to contact that company? (answer = probably not!)
I don't know the first thing about catering, but putting myself in the consumer's shoes I might expect to see:
A headline that immediately tells me I'm in the right place
An overview of your wedding catering services, showing a general understanding of my needs and concerns
How you're different from other wedding caterers (or in marketing speak, your unique selling proposition)
Food/Drink menus and options
Answers to frequently asked questions
Testimonials from past customers
A photo gallery of past events
A call-to-action (i.e. tell me what to do next!)
You don't necessarily need every one of these, but I'd argue that most of them would be pretty important in this example from both an SEO/ranking perspective, as well as a sales/conversion perspective. A "double-whammy", if you will.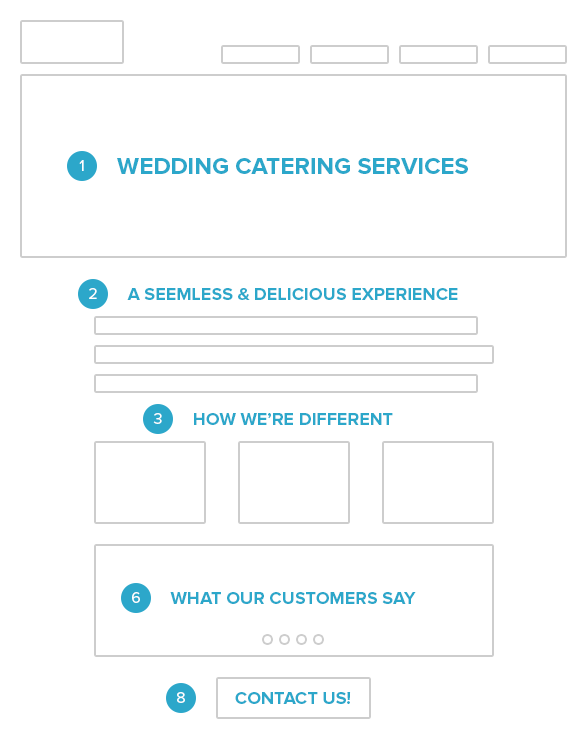 A Note About Word Count
I generally don't like recommending specific word counts, as 1. It varies dramatically based on your business and the type of page, and 2. I'd rather you focus on creating the absolute best page possible – whether you can do that in 100 words or 1,000.
That said, more times than not I see businesses with too little content on their key website pages. Generally speaking, the more expensive and/or complicated the product or service, the more content you'll likely want to include on these pages.
Having trouble coming up with ideas of what to write about? Try these:
Review your competitor's websites – both your "real world" competitors, as well as your search competitors – i.e. the websites currently ranking on page 1 for the terms you want to rank for. Your goal is to create a better, more informative and more compelling page than theirs.
Come up with a list of the top 5 questions your prospective customers have about your business or industry in general (speak with your sales team, review past customer inquiries, etc.). Then make sure those questions are answered within your content.
Tip #3: Optimize for visitors and search results
Don't worry, we're going to keep this simple. "Optimize" simply means that we're going to integrate the keywords you want to rank for in a few key areas of your web pages.
Title Tags
Title Tags are the blue "headlines" that appear for your website in search results, and are one of the most important factors search engines consider when determining where and when to rank your website pages. They are defined by the <title></title> HTML tag.

The goal here is to make sure that every page on your website has a unique and descriptive Title Tag associated with it. Fortunately, most modern content management systems make it very easy to update your Title Tags on each individual page.
If you're using WordPress, for instance, I highly recommend installing the Yoast SEO plugin. It makes editing Title Tags (and many of the other on-site elements) extremely easy to do. Oh, and did I mention it's free?
Here's a good general format you can use for your Title Tags:
[Primary Keyword] – [Secondary Keyword] | [Business Name]
e.g.
Wedding Catering Services – Chicago Wedding Caterers | XYZ Company
Pro Tip: Try keeping your Title Tags under 70 characters (including spaces) in order to reduce the chances of them getting cut off and/or re-written in search results.
Meta Descriptions
Meta Descriptions appear as the descriptive text below your "headline" in search results. While no longer considered a direct ranking factor, they are used to give searchers a glimpse of what your page is about and encourage clicks to your site (which can impact your rankings). They are defined by the <meta name="description" content="" /> HTML tag.

You can think about this the same way you'd think about writing ad copy for any sort of pay-per-click advertising platform.
They should be short (up to 200 characters), compelling, and include 1 – 2 of the primary keywords you want each page to rank for.
Page Headings
Page headings refer to HTML header tags (defined by <h1></h1> – <h6></h6>) that help break up the content of the page into sections and let search engines know more about what each section is about. note: in WordPress these are defined as "Heading 1", "Heading 2", etc. in the Visual Editor.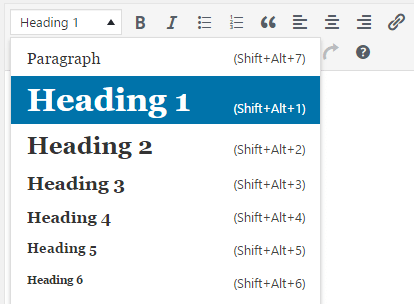 Every page on your site should have one <h1> tag and most pages should have a few <h2> and <h3> tags. Simply include a few of your primary keywords in these tags and you're all set.
Page Content
This refers to… wait for it… the content on your page! Specifically, the main body or paragraph text.
It's likely that you've already included keywords in your writing without thinking about it; however, it's still a good idea to go back and check.
I find that incorporating your search terms, verbatim, a couple times on the page still carries some weight when it comes to ranking for those terms.
Image Alt Text
Alt text refers to short, descriptive text used in the code behind important images and pictures throughout your site. It's useful for visitors who have images blocked in their web browsers, for the blind or visually impaired, and of course, for search engines!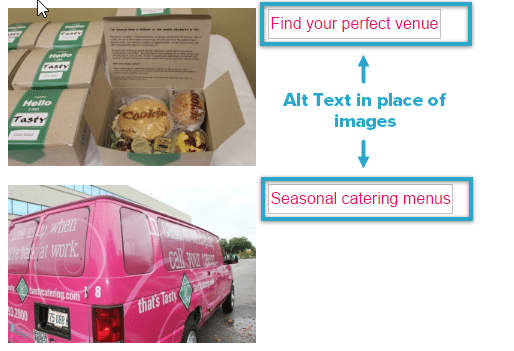 I also find that it can be used as an easy way to get an extra keyword or two on a page – particularly in instances in which it's difficult to use it in a sentence.
For example, the term "catering company Chicago" would be difficult to use in a sentence (whereas "catering company in Chicago" would be easier), so I might try to work that into the alt text of an image on that page.
Page URLs
This refers to the web address of each unique, static page on your site, and is used as another clue by both search engines and site visitors as to what each page is about.
Here are 3 best practices when it comes to structuring your Page URLs:
Make them short and keyword rich.
Use dashes (not underscores) to separate words.
If you decide to change a URL, be sure to redirect the old one to the new one using a 301 redirect.

Pro Tip: if you don't have Google Analytics or similar web analytics service installed on your site, now would be a great time to do that!
Tip #4: Add supporting content via your blog
Wait, you don't have a blog on your site? I'm sure you just forgot. In any case, go do that right now!
The truth of the matter is that the large, large majority of businesses could benefit from having a blog on their site (note that I said on their site, not off on a different website).

Benefits Of Blogging (the CliffsNotes version)
When real time and effort is invested on a consistent basis, blogging could end up being one of the highest ROI marketing channels you have.
Here's how:
It keeps your website "fresh" in the eyes of both search engines and visitors
It shows off your expertise and/or thought leadership in your industry
It creates more opportunities to get links from other websites and social shares
It helps you rank / drive traffic to your site for "informational" search queries
It helps you build an email list that you can market to in the future
It can be done for FREE using various members of your company or team
I could go on, but hopefully that's enough to sell you on the idea.
What should you write about? I thought you'd never ask…
Things You Should Write About
The short answer is: any valuable information you can share to get people in – and move people along – your sales funnel.
For example:
Ideas and inspiration (e.g. Wedding Reception Food Ideas)
Tips and tricks (e.g. 10 Ways to Save Money on Booze at Your Wedding)
Detailed 'how to' guides (e.g. How to Find the Right Wedding Caterer)
Answers to common questions (e.g. How Much Does Wedding Catering Cost?)
Stories or case studies (e.g. About Our First Paleo-Friendly Wedding)
Pro Tip: Use list-style posts often on your blog. You see them all the time online and for good reason: they work great for getting clicked on, read, and shared.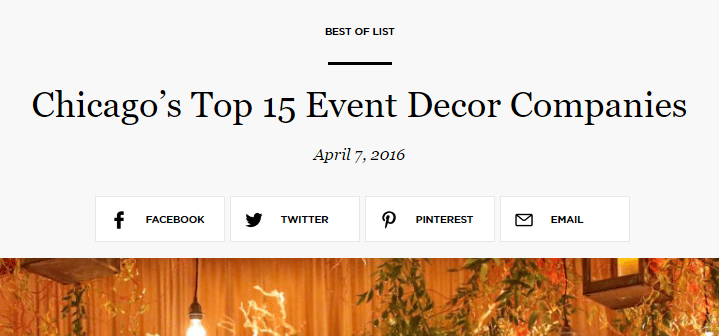 Because we're primarily talking about a new website here (presumably with little to no existing web traffic), we want to make sure you're writing content around topics people are actively searching for online. Luckily, there are a handful of free tools that can quickly and easily give us this information.
Here are 3 of my favorites:
1. Google Keyword Planner
https://adwords.google.com/home/tools/keyword-planner/
Primarily created for AdWords customers, this free tool allows you to enter in a "seed" keyword – for example, "wedding catering" – and spits out up to 800 related keywords, each of which could be a topic for a separate blog post.
Unfortunately, Google started showing very broad ranges for 'Avg. Monthly Searches' last year; however, it's safe to assume that every keyword it suggests receives at least some recurring search volume in Google.com, and you can still use the ranges as a loose guide.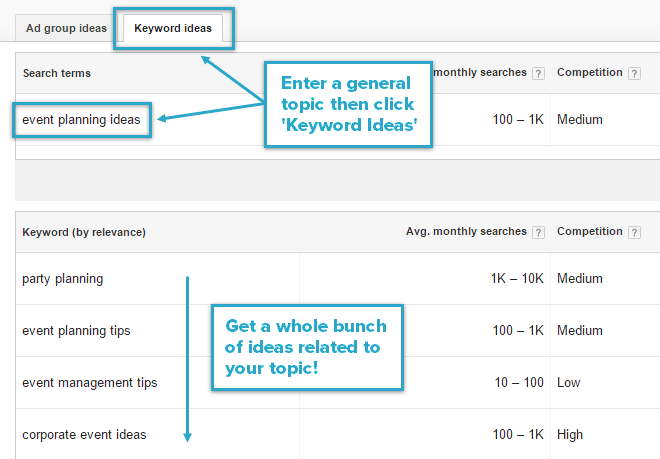 Note: the additional columns ('Competition', 'Suggested Bid', etc.) are only relevant to AdWords campaigns so you don't need to pay attention to them for the purposes of your blog content.
2. AnswerThePublic
Another free online tool that pulls search terms from Google auto suggest, and organizes them by question-based queries, keyword + common prepositions, and then alphabetically.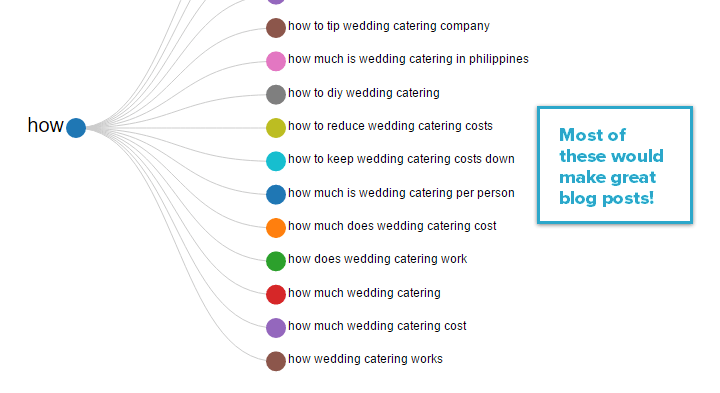 I find the question-based queries particularly useful for getting started with blog content. Just pick a question a prospective customer is entering into Google, write a really great answer to it, and publish it on your blog. Apply some of my optimization methods from Tip #2 and hopefully your blog post will rank on page over time!
Note: make sure you select your country (or the country you'd like to see ideas for) on the first page.
3. SEMrush
The ultimate SEO's competitive research tool – and one of my favorite SEO tools overall – SEMrush offers a lot of great features, but they're probably best known for their Organic Research tool.
Simply enter in the root level domain of a competitor (e.g. XYZCompany.com) and it will give you a bunch of valuable metrics about their business, including a list of the top keywords driving traffic to their website.

This can be great for general inspiration, but you can also create your own (and better) blog post around that topic/keyword and try to outrank them for it.
Note: the free version only allows you to see their top 10 keywords. I highly recommend upgrading to the Pro version – even just for a month – to get access to all of their keywords.
Pro Tip: generally speaking, it's best to choose topics/key phrases with at least 3 words in them, as 1 – 2 words are usually too broad (i.e. less targeted) and difficult to rank for.
Tip #5: Get your first handful of backlinks
Ahh, backlinks… the holy grail of SEO. Backlinks refer to text or image-based hyperlinks that appear on other websites that link back (i.e. 'click-thru') to your website.
You can think of them as "votes" and the websites that link to you as "voters". Like any election, the more votes you get, the better your chances of winning – and in this metaphorical election, winning refers to ranking on page 1 for the search terms your website is optimized for.
Unlike real elections, however, not all votes are created equal. The relevance and authority of the websites linking to you directly correlate with how valuable they are in helping your website rank.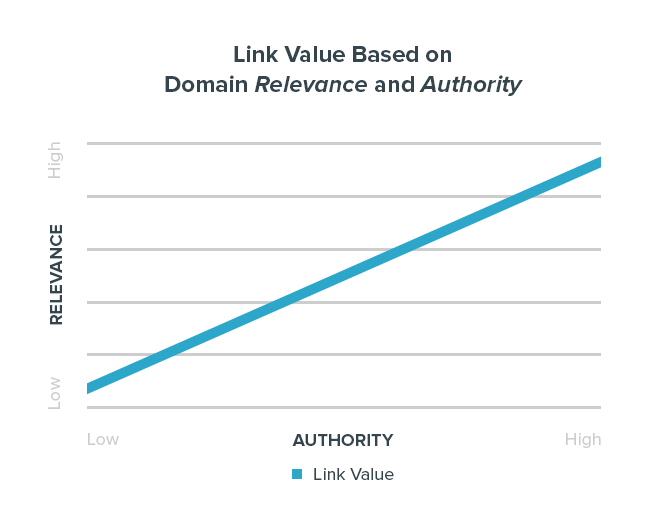 As a new website, it's extremely important to get a nice handful of quality backlinks to your site to get some momentum going with your rankings, traffic, and ultimately conversions.
Here are 3 super easy (but highly impactful) methods you can use to get that first handful of backlinks to your new site:
1. Business Affiliations
This refers to any organizations, associations, and/or other business entities you're affiliated with. It may also include non-profits, charities, events, or networking groups that you and/or your business are a part of.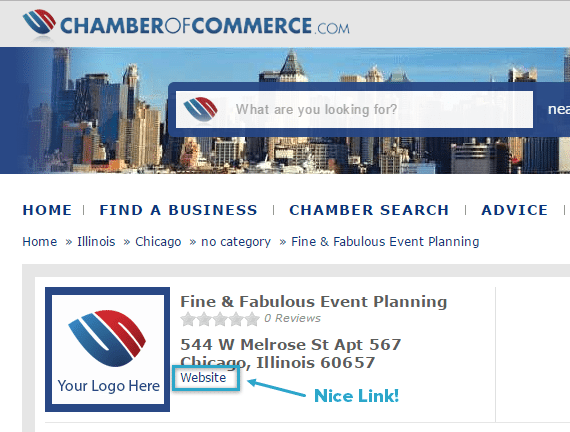 How to get links:
Step 1: Compile a comprehensive list of your business affiliations.
Step 2: Review their respective websites to see if there's an opportunity for a link (look for a 'Members' page or 'Member Directory', a 'Resources' page, or a 'Partners' page).
Step 3: If you find an opportunity, reach out to a contact of yours or look for contact information on the page or elsewhere on the site.
Step 4: Kindly request a link to your site, if appropriate.
2. Unlinked Brand Mentions
This refers to non-hyperlinked mentions of your business name and/or key members of your team around the web.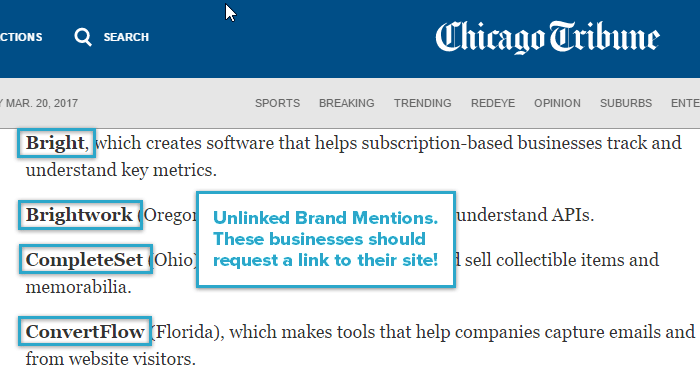 How to get links:
Step 1: Find existing mentions of your business, as well as key members of your organization, with a simple Google search like this: "Company XYZ" -site:CompanyXYZ.com (the latter part excludes results from your own website).
Step 2: Set-up Google Alerts to track future mentions. Don't forget to include variations of your business, such as with and without 'Inc' or 'LLC', as well as any common abbreviations.
Step 3: If you find a mention of your brand and it's not hyperlinked to your website, reach out to the appropriate contact to request that they add a hyperlink.
3. Blog Roundups
This refers to a weekly or monthly list of blog posts, typically around a common theme or topic that get promoted and linked to from the blog or website hosting the roundup (see, aren't you glad you started a blog??).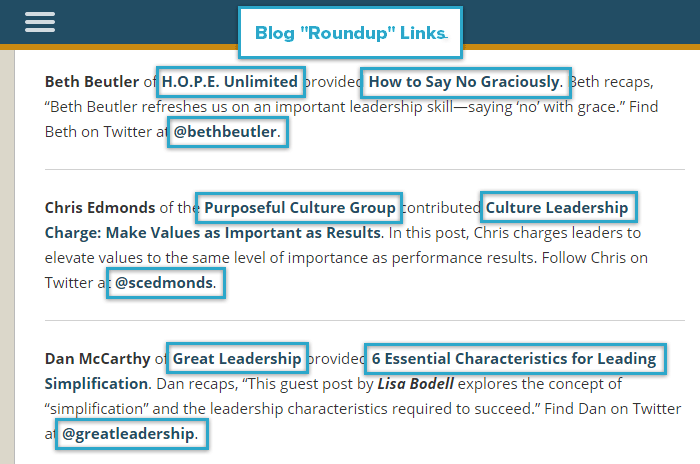 How to get links:
Step 1: Find relevant websites that host roundups by searching one of your broad topic keywords + "roundup" (e.g. wedding inspiration "roundup").
Step 2: Review the websites closely for submission guidelines and follow their instructions. If you can't find their guidelines, send an email to the most appropriate person you can find and send them your blog post, kindly asking to be included in their roundup.
Step 3: Of course, if you don't have a relevant blog post for a particular roundup, this should serve as extra motivation to write one!
Bonus tip (because I like you!)
Create or Claim your business profile on the top directory sites.
In addition to the obvious reason (so people can find your business when searching these sites), it also helps to "legitimize" your new website or business to both search engines and users, and can help get you ranking faster.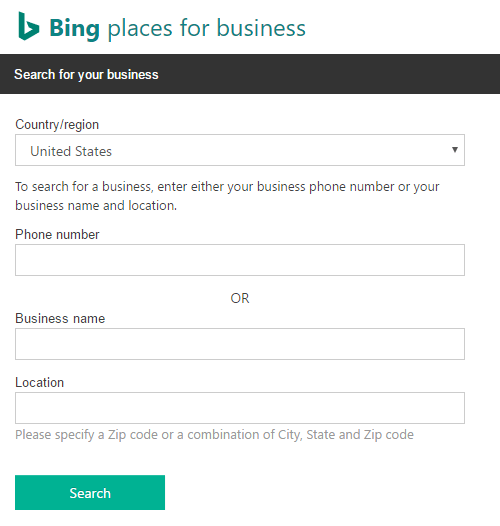 Here are 3 really great directory lists you can work from:
Pro Tip: Be sure to keep your Business Name, Address and Phone Number ("NAP") consistent across all these sites. Decide up front if you want to use "St." or "Street", "Suite" or "Ste.", etc., and keep a record somewhere so you can reference it whenever you need to submit your business information online.
Make the investment
If you implement these SEO tips for a new website you'll likely be ahead of 90% of your competition.
Since your website (and possibly even business) is new, it may take a few months to start seeing noticeable traffic increases – but, unlike paid advertising, your time spent on these items is an investment which can pay you back for years to come.
If you have any thoughts, questions, or suggestions please let me know in the comments section below.
I hope this was helpful, and I look forward to hearing from you!